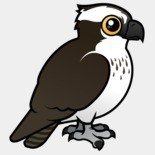 Hello!
My name is Miss Heffernan and I can't wait for you to join Osprey class. The supportive Ms Smith and Mrs Moss will also be here to help you learn and achieve your best.
So what does this year have in store? Well, we are going to be exploring the furthest reaches of space, travelling back in time to discover why the Tudors were terrible and exploring Ancient Greece and its impact on us today. We are also going to be learning about how our local town of Worthing has changed over time and how it is significantly different to our capital city (London). Hopefully, before the year is out, we may even be able to visit London to carry out our own research!
We hope you have got determination, perseverance and a hard-working attitude. If you have, you are certainly ready for a new school year and the exciting challenges of Year 5!
Mulberry Lane, Worthing, West Sussex BN12 4RN
01903 241 175
office@goringprimary.org