Classes >> Seagull Class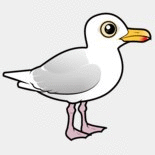 Hello!
I'm Mr Wilkins and I teach Seagull Class in Year 4.
My teaching is based around fun, challenge and respect. The children will be encouraged to put 100% effort into every lesson and will have a lot of fun along the way. This will give the children the opportunity to develop as confident, motivated and independent learners.The topics are interesting and engaging which encourage the children to want to learn more. Our topics this year are 'Walk Like an Egyptian, Born in the USA; Mighty Mountains and Raging Rivers; Invaders and Settlers; and Cool to be me.
Learning is powerful and I want to encourage the children to become inquisitive, to explore new topics and ideas, and to have fun whilst doing so. We take care of the classroom and the resources around us, keeping it clean and tidy. The children are role models for the younger members of our school community and need to show them how to learn, behave and engage with others.
Throughout the year, the children will be given opportunities to take on different responsibilities both in class and around school which is exciting.
I wish the children a happy year and hope they enjoy Year 4!