Classes >> Seagull Class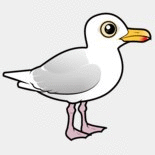 Hi and welcome to Seagull Class! My name is Mr Wilkins and I'm the class teacher. In class this year, we are very lucky to have Mrs Smith, our Teaching Assistant, and Mrs Bien, our Learning Support Assistant.
I love teaching in Year 4 because it's such an awesome year – you're going to have so much fun!
We have some amazing topics, starting with 'Walk like an Egyptian', where we learn all about the fascinating (and sometimes gruesome!) history of Ancient Egypt. After Christmas, we move onto 'Born in the USA', a geographical topic about North America. This is followed by 'Cool To Be Me', where we learn all about our bodies. In the Summer term, we finish the year with 'Invaders and Settlers' – a fantastic historical topic all about the Vikings and Saxons. Exciting times!
I know that you're going to really enjoy Year 4 as there are so many fun things to look forward to. I can't wait to get started! See you soon!