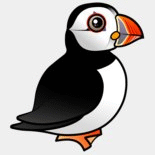 Hello and welcome to Puffin Class!
My name is Mrs Whittaker and I am going to be your teacher. I am really looking forward to a wonderful year in our classroom! Our teaching assistant will be the lovely Mrs Hughes, who many of you already know from Year 3.
In Puffin class, I encourage all children to be happy, confident and independent learners. I like all the children to try their best at ALL times, to be kind, helpful and resilient, and to keep our classroom neat and tidy. I love to read, and I would like all the children in my class to love books and reading as much as I do.
There is a lot to look forward to in Year 4! We have some very exciting learning ahead. To kick-start we are learning about how rivers are formed in geography. In the autumn term we also get to go on a residential visit to Lodge Hill Activity Centre, which will be a fantastic way for you to bond as a team and overcome challenges in a supportive and fun environment – plus, the food is awesome! At Christmas, our year group leads the carol service at the Church.
In the spring term will also put on a musical production, which you will perform to the school and your parents and carers at the Church Hall.
In the summer, you will become experts in history as you learn about the Anglo-Saxons and Vikings and how the country of England came to be. We will visit Butser Ancient Farm to find out more about what life was like in the early mediaeval period.
What an exciting year we will have! I look forward to finding out all about you, and I can't wait to start our learning adventure together!
Mulberry Lane, Worthing, West Sussex BN12 4RN
01903 241 175
office@goringprimary.org